Category Archives:
Farming Simulator 2013
(*) Passenger Mod
(*) Movable arm
(*) Adjustments Skin
(*) Added wheel + rim combination
(*) Dynamic exhaust smoke
Authors: Epicmen, Giants
DOWNLOAD 25 MB
(*) Tailored to the real dimensions
(*) Operate rotary and emergency signals
(*) Open doors and hood
(*) Constitute additional board for silage
(*) Designed for transportation of wheat, barley, canola, corn, silage, grass, potatoes, sugarbeet and sunflower
Authors: R.U.S.L.A.N, Lexan, DUFATA, Zombi88888, sanya1970
DOWNLOAD 23 MB
(*) The engine produces 230 hp
(*) Maximum speed 46 km/h
(*) Open the front and rear windows
(*) Built-in machine counterweight 0-800 kg
(*) Rear wheel
(*) Spark is a normal camera
(*) Sound isolation enclosures
(*) Folding emergency lights and front hydraulics
(*) Wheel dust, turn signals and other now
(*) IC tractor is not (controls only) does not get dirty, not trample the field, not manual ignition
(*) More Realisticistic and authentic and ES limiter also available
(*) Fixed all known bugs and glitches, refined texture
This mod has been made by FF824
DOWNLOAD 20 MB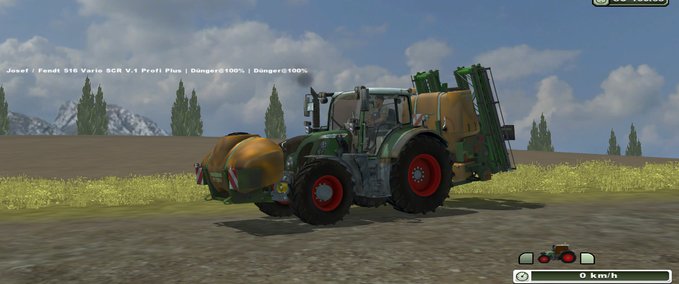 Hello Com,
Have times the original Amazone UF syringe with revised front tank.
What was done:
Enlarged front tank capacity 2500L Dirttextur and Washable added.
Syringe capacity increased to 2500L, added Dirttextur and Washable.
Tirttime is 0.5 hours. Since we are all environmentally aware, and we our syringe before we leave the field clean, I'll miss the syringe a pressure washer, you can wash with directly on the field the syringe.
Have fun with it.
As always, New Upload bans, respect the modders.
Credits: monteur1
This is a Farming Simulator 2013 ( ls 13 ) Mod, in category Implements & Tools
Image 1 Image 2 Image 3 Image 4 Image 5 Image 6 Image 7 Image 8 Image 9 Image 10 Image 11 Image 12 Image 13 Image 14 Image 15 Image 16 Image 17 Image 18 Image 19 Image 20
DOWNLOAD Link: CLICK
(*) Animation of the earth
(*) Working width: 5 m
This mod has been made by MF_7499
DOWNLOAD 14 MB
In Pack included:
(*) Claas Jaguar 870 Combine
(*) Claas PU 300 Cutter
(*) Kemper 360 Plus Cutter
Authors: Pille, Farmi, Ago, Marco, Mike, Sven777b, TobiasF, roller90
DOWNLOAD 34 MB
(*) Internal lighting
(*) Realisticistic and authentic smoke
(*) The actual internal camera
(*) Runs all the speedometer inside
(*) Wheel Particle Spec
(*) Articulated Axis
This mod has been made by kolombo96
DOWNLOAD 14 MB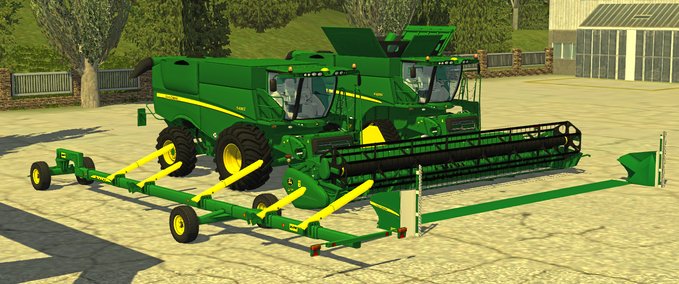 After two years of hard work , the John Deere S690i , the european version , is here!
 The John Deere harvester is ideal for medium to large field sizes, provided with a rigid head 35 ft, make a perfect set for work on the farm nowadays, where technology and productivity together to provide profitable production.
Fixed error from last version.
This package contains:
John Deere S690i
John Deere S690i traked version
John Deere 635R
ZUNR Rape PROFIT II (35tf)
ZUNR Header trailer 550
Cultives that you can harvest: Wheat, Barley, Rape, Corn, Soybean, Sunflower, Oat and Rice
This Pack contains features such as:
- Front and rear lights work, besides tube light, all activated with the "F" key
-The ability to leave or straw
-The head contains grain animacioon in fruit, also fold it.
-Combine with this lively work and transport position. 
-Driving Particle Systems
-Rean Straw and Chopped Straw Particle systems
-Interactive Control and Light
-Manual Ignition
-Buyable Rape system
-Grain Header have the ability to use crop Ricers
-Dinamic unload particles
-Indoor Sounds
-Header tilt.
-Manual Header Height. (Don't work in MP)
 Is highly recommended to read user manual inside the mod.
If you have any problem please report to : [email protected]
Allowed to share only with original download link and description.
Credits: julian12
This is a Farming Simulator 2013 ( ls 13 ) Mod, in category Combines & Excavators
Image 1 Image 2 Image 3 Image 4 Image 5 Image 6 Image 7 Image 8
DOWNLOAD Link: CLICK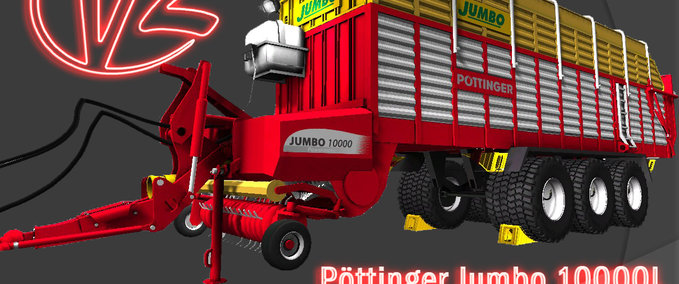 Pöttinger Jumbo 10000L
 
Hello people ,
 
I hereby want to introduce you to a brand new old known mod from LS11 from SFM Modding Team .
For the time being the same once a Many thanks to Manuel (SFM team ) has granted me release it.
 
 
Technical 1:1 Highlights of the collection giants:
 
* Perfect grass scar gentle adjustment to the ground by unique floating pick -up with 2 m working width
* No unnecessary wear on the pick-up tines
* Long-term lubrication and maintenance zinc pipe storage
* The machine is driven by spur gears in an enclosed oil bath gearbox
* 45 blades in a row ensure a precise cut of 34 mm
* Scratch Floor: Highest discharging over 4 or 6 strong scraper floor chains ( depending on model)
* Double-sided Weitwinkelgelenkwelle for undisturbed loading in tight curve radii
* Sturdy platform profiles, closely spaced, provide high stability
* Special feature: fine thread screw for maximum stability
(Source: poettinger.at )
 
 
Technical data of the mod :
 
* Load capacity : 60000 liters
* Fully animated PickUp catchment system
* Unterlegskeile for preventive protection standard, thereby
* More real gameplay by tire dust and traces
* Fully animated propeller shaft
* Height -adjustable drawbar
* New Particel systems
* New real hydraulic sound
* Standard rear-view camera
* Washable
* Lighting V3.1
* Fully Balanced tridem swing axles
* Grass , Hay and Straw Ready
* Hydraulikschleuche for coupling
* Pickup is to manually raise and lower (no car PickUp )
* Center of gravity and weight set brand new
* Production New BIG X Cargo Tyres
* Dosing rollers fully Animated
 
 
 
Important for the new purchase:
 
* Price: € 105,000.00
* Maintenance per day : € 120, -
* Newly created : Schematic overlay including drawbar schema and store image
* Roads and lighting work approved in accordance with § 60 Abstz . 3 StVo
 
 
 
Control of the giants:
 
 
Blinker Links: NP 1
Right turn signal : NP 3
Hazard warning lights : NP 2
Work light ( swath ) : NP 5
Interior Light : NP 4
Rear Camera: NP 9
Hydraulic hoses : Old Links
Pedestrian : Left mouse button
Pickup Up and Down: V
Loading wagon up: B
 
 
 
 
I wish you with this giant here , a lot of joy and fun as I have him ! Large farmers and contractors, it will come in handy !
 
 
 
 
Acknowledgements :
 
First , of course, a very big thank you to all the SFM Modding team, especially Manuel , for the release of the mods!
At one point zwiter thanks to Ifkonator for the Eternal assistance and with mounted swing axles – my friend without you I would never have come so far!
Of course also a very big thanks mjk for , in my opinion very appropriate , Dirtskinn here !
On the whole modding world forum: you Thank you! Whenever the production stopped due to an error in more , you stood by my side and have boxed me out !
Thanks also to Bayerbua and his team for the release of Rückfahrcam (for more credits)
 
 
 
 
 
Known Bugs : ( since there is only the V1)
 
** " Floats " just the initial purchase to the coupling in the air
When new ** loading the savegames short bottom Collision
** You load with lowered PickUp up , the PS turns forward to
 
So all in all not really important error !
Log is of course clean!
 
 
 
 
 
Changelog :
V1:
 
* Converted (by SFM Modding )
* New tires Cargo
* Washable
* Dirtskinn (Thanks mjk )
* Swing axles (Thanks Ifko )
* Tire tracks
* Tire dust
* Selection scheme
* Pedestrian animated (thanks Cornel B. MW)
* Pedestrian Scheme
* Washers wedges
* Lighting V3.1 (by Sven777b )
* PS PickUP
* PS unloading
* Unloading rolls ( by Giants )
* Hydraulic sound tailgate
* Rear camera ( by Bayerbua and team )
* Hydraulic hoses (by Ifko )
* Animated propeller shaft
* Animated Pickup rollers
* Some things fixed ( Thanks modding world , Cornel B. and Ifkonator )
* New main pivot (Thanks Cornel B.)
* New Plan
* Added Strwaplane
* Adjusted capacity
* Pick Up wheels run now
 
 
 
Please check also the credits.
Credits: Claas_Evolution
This is a Farming Simulator 2013 ( ls 13 ) Mod, in category Trailers
Image 1 Image 2 Image 3 Image 4 Image 5 Image 6 Image 7 Image 8 Image 9 Image 10 Image 11 Image 12 Image 13 Image 14 Image 15 Image 16 Image 17 Image 18 Image 19 Image 20 Image 21 Image 22 Image 23 Image 24 Image 25 Image 26 Image 27 Image 28 Image 29
DOWNLOAD Link: CLICK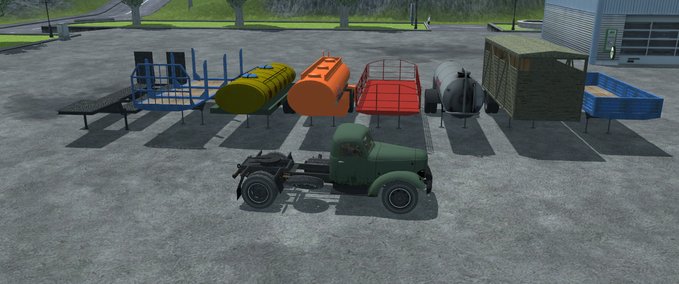 The package includes:
Tractor ZIL – MMZ – 164n. Open doors and hood, lighting, working speedometer, fuel gauge, windshield wipers, dust from the wheels, switchable mirrors.
Semi-MMP -584 with adjustable / detachable extended sides. Capacity:
mended without on boards – 7000 l (wheat, barley, canola, corn, potatoes, beets, silage, silage, grass, manure, feed mixture);
with extended sides – 15,000 liters (silage, grass silage, hay, straw, fodder mixture).
You can also carry bales and pallets.
Tanksattelaufliegerfür the transport of milk and water. Capacity 8000 liters.
Semitrailers, tanks for liquid manure. Capacity 8000 liters.
Semi-tanker. Capacity 8000 liters.
Semi-trailers for the transport of pigs and calves. Capacity 16 pigs or calves.
Semi-trailer for the transportation of bales with a locking load.
Semi-wood with an outsized cargo.
Semi-trailer for transport units with a bulky goods.
Also in the package there are protocols that can wear wooden truck or tractor. Purely for entertainment, a break from working in the fields, have no practical application.
Credits: Silak_68
This is a Farming Simulator 2013 ( ls 13 ) Mod, in category Useful Thins
Image 1 Image 2 Image 3 Image 4 Image 5 Image 6 Image 7 Image 8
DOWNLOAD Link: CLICK